Theories of change (ToC) are central to CGIAR's approach to performance management, underscored by the focus on the use of theory-based approaches for evaluation as per the CGIAR-wide Evaluation Framework and Policy (2022). In response to learnings from the previous portfolio, this blog showcases how and why CGIAR leverages ToC to support the design and implementation of research for development (R4D), adaptive management, monitoring and evaluation.
A new video explaining the usefulness of ToC was produced by the Sustainability Research Effectiveness team at Royal Roads University and the Monitoring, Evaluation and Learning team at the International Center for Agricultural Research in the Dry Areas (ICARDA), a CGIAR Research Center.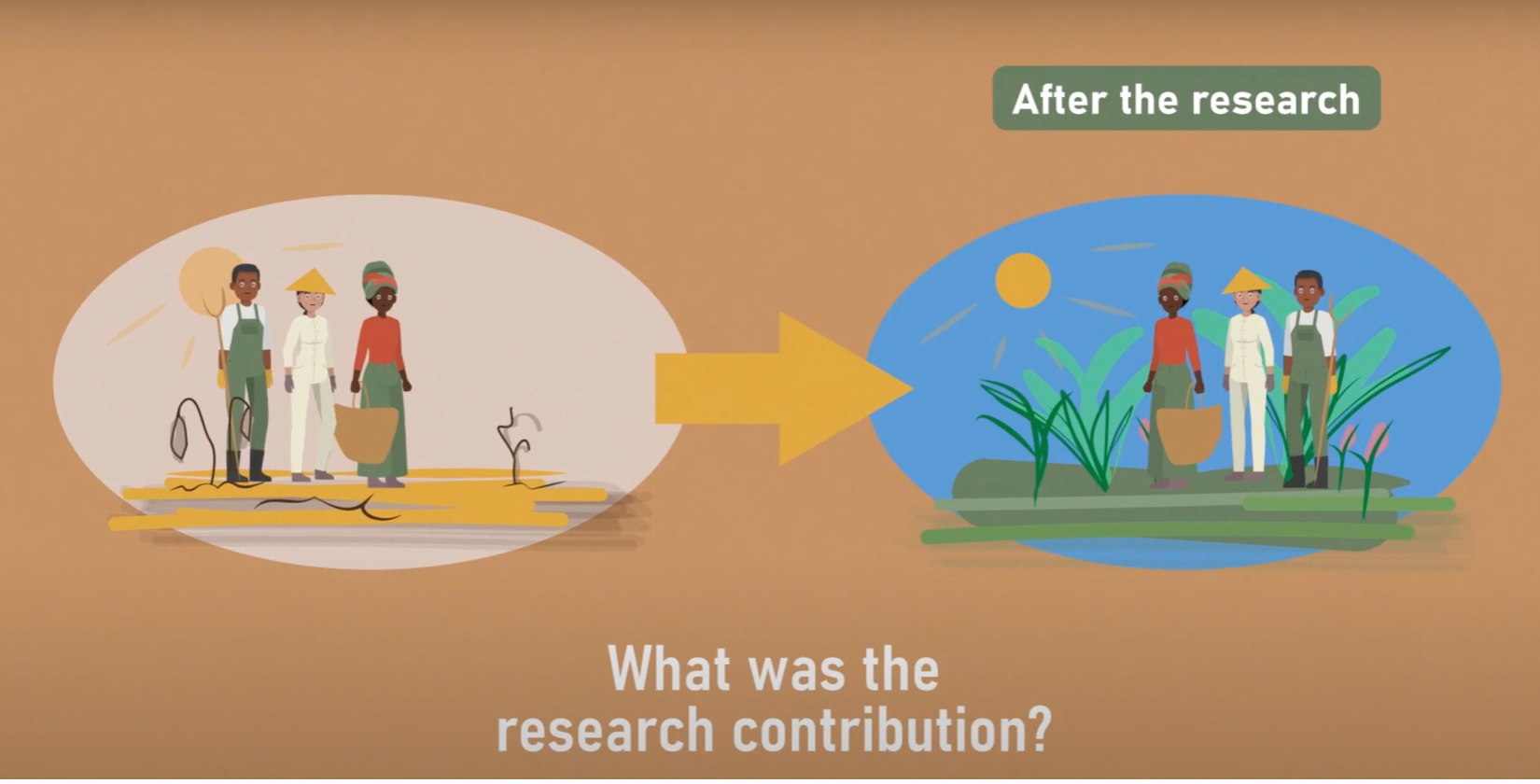 Under the new 2030 Research Strategy, CGIAR's goal of "a food-secure future dedicated to transforming food, land and water systems in a climate crisis" is ambitious and complex, requiring a well-thought-out plan for change, as well as appropriate monitoring of progress against the plan.
Theories of Change are especially important in the context of agriculture and nutrition sciences, where the goals and outcomes can be complex and multifaceted. Such projects must also consider contextual factors such as climate change, cultural acceptability, education and gender, along with all the different people involved in bringing positive change, such as farmers, suppliers, vendors and consumers. The revised vision for ToC allows us to strategize how initiatives in the CGIAR Portfolio expect to contribute to three action areas, impact areas and the Sustainable Development Goals.
In 2020, the Independent Advisory and Evaluation Service (IAES) Evaluation Function coordinated independent evaluative reviews of each of the 12 CGIAR Research Programs. In response to an explicit evaluation question, the reviews concluded that ToC provide an explicit shared thinking about how change comes about in a larger context and is useful for (1) priority setting; (2) assessing the contribution of scientific outputs; (3) seeking and justifying funding; (4) mapping trajectory to impact; and (5) reporting. However, CGIAR Research Program-level Theories of Change were not suitable for assessing the effectiveness of Programs when judging progress towards the System-Level Outcomes, i.e., accountability beyond outputs. Based on the process learnings, harmonized proposals with common ToC guidance and terminologies were developed, the ToC was digitized, the Plan of Results and Budget were developed using ToC planned results and results are now reported against the ToC.
While it is anticipated these changes will enhance the full potential of ToC learning from the CGIAR Research Program era, more systematic reflections would help assess if further actions are needed to improve the usefulness of ToC in CGIAR. In December 2021, the CGIAR System Council committed the CGIAR Executive Management team to deliver "common performance management across all initiatives […] and large non-pooled projects". Subsequently, it approved the Performance Results & Monitoring Framework (PRMF) 2022-2030 and the CGIAR Technical Reporting Arrangement (TRA) (June 2022). The TRA references that the "framework for annual adaptive management and three-year assurance stage-gates […] will be informed by annual reports, annual adaptive management and independent evaluations" (pp.16-17). Independent evaluations will be conducted in line with the CGIAR Evaluation Framework and CGIAR Evaluation Policy. To operationalize the PRMF, CGIAR has a newly redesigned Performance and Results Management System (PRMS) with a specific digital board based on ToC principles developed by the Digital and Data team.
A ToC illustrates and outlines the causal logic from outputs to the outcomes and impacts expected to result from an intervention. A ToC hypothesizes the underlying assumptions for the expected change process. In essence, a ToC shows how and why change is expected to happen as a result of an intervention. It emphasizes who is doing what differently (e.g., change in behavior), and takes other system processes into account, as inputs or assumptions.
Not only are ToC useful for the planning and design of R4D projects and initiatives, but they can also be leveraged during implementation for monitoring and adaptive management (e.g., to make adjustments to the ToC as more is learned) as well as ex-post for evaluation (e.g., to test whether and how the outcomes and assumptions were realized). This evaluation learning then feeds into future research strategies.
Aligned with the CGIAR-wide Evaluation Framework (2022), the comprehensive use of ToC will enhance the evaluability of the CGIAR Portfolio. Towards that, ToC analysis is integrated into the core domains of the Evaluability Assessment Guidelines (2022). Operationally, the Science Group Initiatives developed ToC as part of their proposals following guidance for ToC design, to clearly articulate their expected outputs, outcomes and impacts. Furthermore, the online ToC board will support periodic adaptive management to revise and refine initiative ToC for each three-year phase as well as assist evaluation processes, as outlined in the ﷟2022-24 multi-year workplan of IAES.
Comprehensive use of the ToC approach will strengthen the quality of delivery and achieve meaningful impact of R4D interventions worldwide. CGIAR's emphasis on ToC across the monitoring, evaluation, learning and impact assessment (MELIA) continuum exemplifies recognition of the role of systematic and evidence-based approaches in contributing and helping to achieve complex goals.