Asia's mega-deltas – that is, very large river deltas – are home to over 177 million people and support the survival of millions more. They're biodiverse, fertile, and productive 'food baskets' dominated by rice, fisheries, and aquaculture. But they're nearing a tipping point: climate change impacts in the form of increased flooding, salinization, cyclones, and water shortages are predicted to be particularly severe for these critical landscapes, which is tipped to erode food security and increase poverty and hunger.
In this context, the CGIAR's Asian Mega-Deltas (AMD) Initiative – launched in August 2022 – aims to help create resilient, inclusive, and productive deltas that maintain socio-ecological integrity, adapt to climatic and other stressors, and support human prosperity and wellbeing. It seeks to do so by removing systemic barriers to the scaling of transformative technologies and practices at community, national, and regional levels.
To effectively track changes, hone efforts and build knowledge over time, the Initiative focuses on Monitoring, Evaluation, and Learning (MEL) in its design and implementation, to align with the CGIAR-wide Evaluation Framework and Policy that was also launched in 2022 (see Figure 1 below). The MEL team at the International Rice Research Institute (IRRI), the Initiative's lead center, has guided these efforts.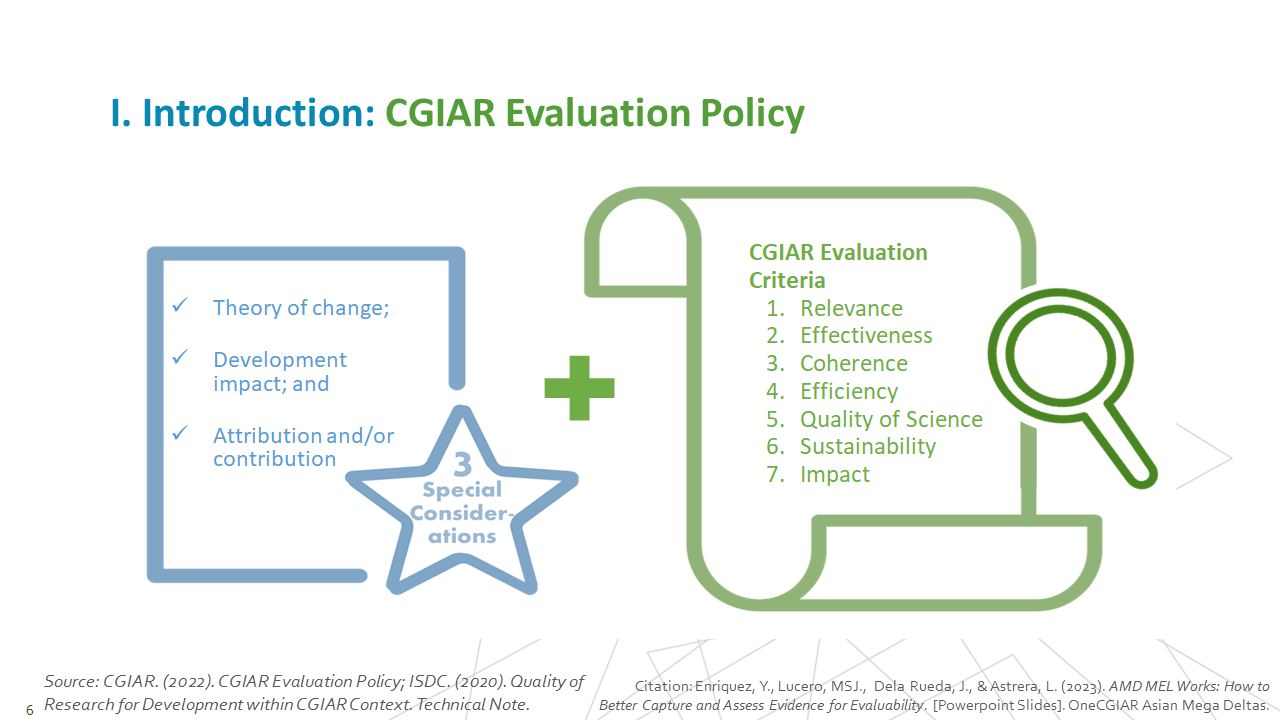 "Given the scope, scale, and complexity of this project and the challenges it addresses, monitoring, evaluation, and learning is particularly central to its design and implementation," said Bjoern Ole Sander, AMD Initiative Lead and Senior Scientist at IRRI, during the Initiative's first annual meeting and 'Pause, Reflect, and Plan' workshop in Cambodia in March 2023. "In this context, the CGIAR-wide evaluation framework was timely to provide especially helpful guidance."
It's hoped that through the AMD Initiative, "All the sectors working for the deltas will have a platform for collaborative research for development and knowledge sharing, that will empower not only the research partners but most especially the vulnerable sectors and smallholders whose livelihoods depend on the deltas," said Jean Balie, CGIAR's Regional Director for Southeast Asia and the Pacific, during the same event.
The three-day workshop was held with partners to review the Initiative's strategy, cooperation, and performance management and measurements. It provided a space for national partners and CGIAR scientists to reflect on alignment with the research and Sustainable Development Goal (SDG) priorities, and the progress of the Initiative in priority countries – namely Bangladesh, Cambodia, and Vietnam. The participatory activities and country-driven sessions involved joint analysis of implementation gaps, refinement of the impact pathway, and action planning through the end of the AMD Initiative's first phase (until 2024), with the end view of ensuring shared sustainable outcomes. The gap analysis was used as a key input for revisiting the Theory of Change and MEL planning. "Bringing in partners to tighten AMD's alignment with country priorities is intended to strengthen the legitimacy of its science and research, which lands a major criterion for Quality of Research for Development (QoR4D) Framework," said Yuji Enriquez, IRRI's MEL manager.
On a designated day during the workshop, IRRI's MEL team presented the guiding framework for ensuring the AMD Initiative's alignment with CGIAR's evaluation policy and Quality of Science criterion. In line with the Initiative's quest to promote a culture of reflection and learning for continuous adaptive improvement and problem-solving, the AMD Initiative's own MEL team then facilitated reflection and planning on the topic. The team introduced their 'MEL Works' Framework (see Figure 2 below), which seeks to ensure that MEL adequately captures and assesses evidence for evaluability in line with CGIAR's Evaluability Assessment guidelines, which operationalize the CGIAR-wide Evaluation Framework's standards on 'evaluability' and 'measurability'.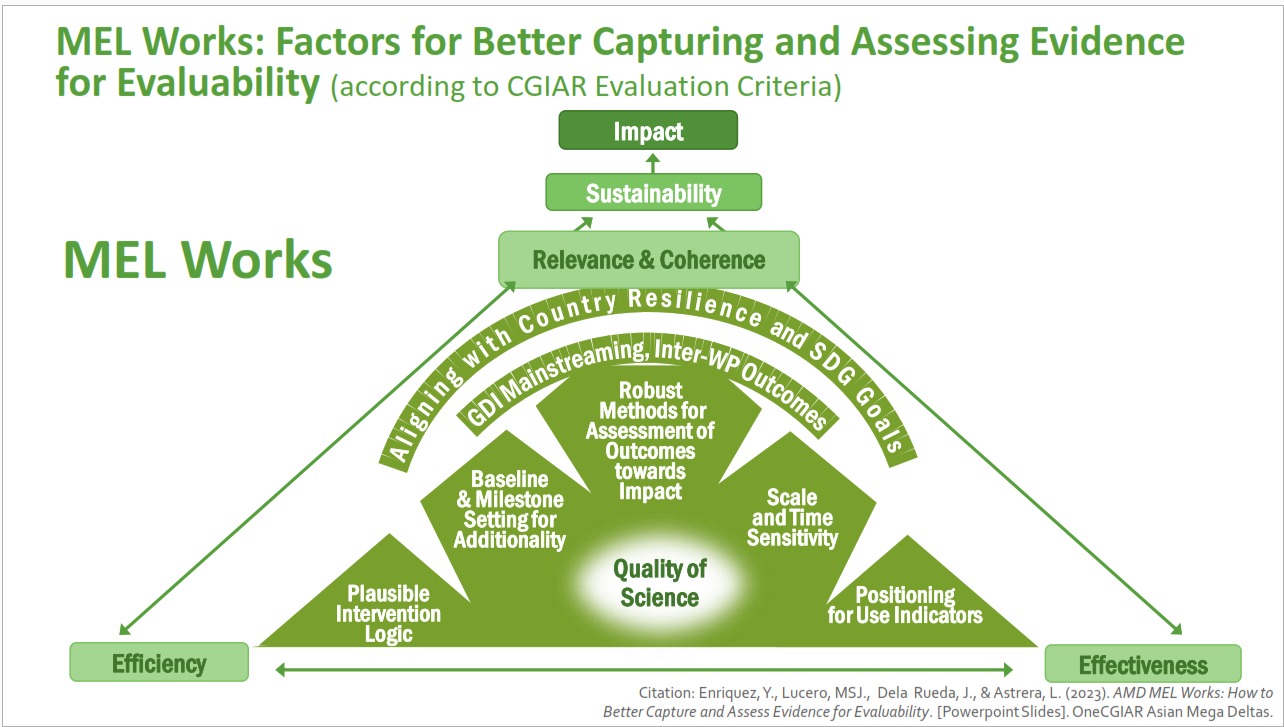 Enriquez emphasized MEL framework's alignment with CGIAR's Monitoring, Evaluation, Learning and, Impact Assessment (MELIA) standards and Quality of Results for Development (QoR4D) framework (see Figure 3 below). He also explained that the framework's focus on evaluation criteria, including the 'Quality of Science' criterion, was designed to help facilitate process and performance evaluations that are aligned with the QoR4D framework.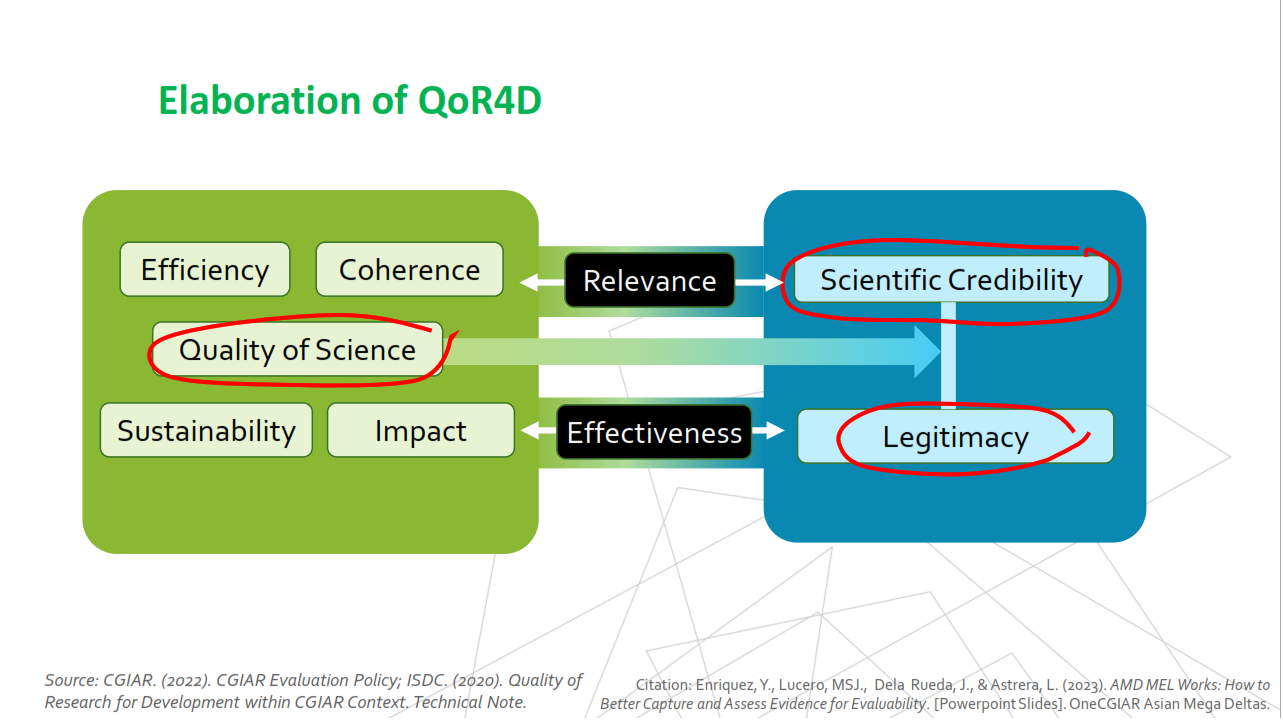 Sessions on gender and youth inclusion were then facilitated by Nozomi Kawarazuka from CGIAR's International Potato Centre (CIP) and Indika Arulingam from the International Water Management Institute (IWMI). "These sessions were critical to providing a comprehensive picture on centering and improving MEL," said Yuji Enriquez – "particularly given the CGIAR-wide evaluation framework's recognition of the proactive integration of gender, diversity, and inclusion (GDI) as integral to delivering on QoR4D and resilience outcomes."
Overall, "the AMD MEL Guiding Framework points to several considerations in MEL planning to facilitate evaluability of the Initiative considering the QoR4D framing," said Enriquez. These considerations include: establishing baseline and milestone setting for additionality within complex portfolio innovation scaling set-ups; consideration of time and scale sensitivities of Asian Mega Delta systems; building plausible intervention logic illustrated in the AMD Initiative's theory of change; identifying positioning for use indicators for long-chain research-for-development outcomes; developing robust methods for assessing outcomes towards impact; mainstreaming gender, diversity, and inclusion (GDI); promoting of inter-workplan outcomes; and aligning AMD Initiative outcomes with country resilience and the SDGs.
Next, the MEL Works Framework was used to facilitate reformulation of the AMD Initiative's MEL system as follows:
incorporating the four elements and 15 standards and principles of QoR4D as defined by the CGIAR QoR4D Framework and evaluation guidelines;
centering the system on impact pathways that bridge knowledge creation and utilization, and shifting from a sole aim on research outputs based on high-quality science to outcomes that make the AMD Initiative evaluable under seven key performance criteria; and
ensuring the Initiative is better prepared to be assessed at the end of each business cycle assurance stage gate, where recommendations to proceed, modify, and re-allocate decisions are made.
The learnings gained during the workshop have since guided the development of the AMD Initiative's MELIA Plan. Towards that, the team is engaging with the Evaluability Assessment alongside three other Regional Integrated Initiatives. Stay tuned for the Terms of Reference and the Inception Note on IAES's website.